Et…. voila – les photographs de notre gig en Paris ils y a… ici!
(Excusez-moi mon Francais…)
Translated – "here's some photies from our Paris gig and that"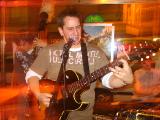 Marty goes for an extended jazz chord, inspired by a rather nice Gibson semi.

Moose gets creative with the Palatino "French Stick"…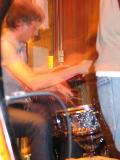 Hugh lays down the law before "les gendarmes du la musique…. jazz" arrive.
View all the pics——————> here!
Alors. I'm sure there's some sort of "trackback" thing you can do in the whole Blog thingy but until I've worked it out, check out the venue blog… here
A great wee bar to find yourself in if you're in Paris & keep an eye out for The Jazz Mooners

We shall be returning to L'Olympique on our forthcoming European Tour – details to be announced!